Kat Farrants looks back at the lessons of 2020. A year to remember: where breath and health and transformation proved to be central and we were bolstered up by connection and community.
Where does one begin with 2020 in review? It's the end of a bit of a crazy year! I don't know how you've found it, but for me it's been a challenge at best and really tumultuous. I do hope that you and your loved ones have skidded through the ups and downs of 2020 and have landed safe and well. After all, we've learnt, if nothing else this year, never, ever to take our health for granted, and that there is no price we'd pay for the gift of good health, and a strong immune system. We've learnt that breath work is the cornerstone to good health, as well as to transformation.
Yoga Online
It's been a really busy year for MFML. We started seven years ago, in 2013, and back then a lot of people were a little sceptical about doing yoga online. Well, this was the year that everyone went online. The great news is that we were here for all of you, for the folks who usually practice in studios and those loyal souls who've been with us right from the beginning. The whole world took to online yoga.
Learning to be flexible
2020 was the year where we all learnt the absolute necessity of flexibility. We all found that we could in fact live if we cancelled everything in our diaries. It's funny, most of us thought that we needed to do the meetings, the events, the meet ups, the dashing around. But we found out, in this year that we could live without the little things that we've grown accustomed to. We could live without the usual structure and order. And I don't know about you, but I've learnt so many lessons about myself, about the need to get off the hamster wheel of life and simplicity. 2020 is a year I'll always be grateful for, for those life learnings.
Community and Connection
When we first went into lockdown here in the UK, our fabulous team were indeed flexible, and curated our very first home yoga retreat. We all missed the closeness of our friends and family, so it was a wonderful opportunity to connect with ourselves and with each other. This year our Live interviews and Live Q&A's with our teachers were more popular than ever. We all missed going out and about and being able to ask our usual teachers, so it was heartening to be able to step up to do make Movement for Modern Life the down to earth, welcoming community which we'd always wanted it to be.
We followed up our home yoga retreat with our most popular course, the Home Retreat 2: Be Here Now. It truly was a blessed time to learn from each other, see members of the community whilst we were all home, and truly connect to ourselves, to each other, and to come home to ourselves. We all of us found that so much in life had been a distraction, that coming home felt completely new.
Yoga Philosophy
We launched our first yoga philosophy courses. The first one a 'Tour de Force' into the Yoga Sutras with indomitable Vidya, and the second a course in Yoga and Buddhism with Adam and Mimi. Again, it was a wonderful opportunity for us all to deepen our practice and take our lessons on the mat off the mat and into real life, which really is my main passion.
Supporting our NHS
We all clapped for the NHS and key workers, but it was pay and access to wellbeing that the NHS staff so badly need. We offered free subscriptions for the NHS and we were very, very happy that thousands of free memberships have been enjoyed by many NHS workers. It's nice to be able to be in a position to do whatever we could to help, in whatever small way we can. It's lovely knowing that we're all in this together, and that those of us in a position to help, did.
Diversity and Inclusivity
The world shook with the shock the George Floyd's murder. 'I can't breathe', those terrifying words which shook the world. Thank goodness many in the wellbeing industry started to wake up to the world of privilege and the white supremacy which has ruled yoga in the west. We started to wake up to cultural appropriation. We started to wake up, collectively, to the depth of the problem. Finally, we started to listen. All of us at team MFML took diversity training and started to read around the issues of white supremacy, to help us to wake up and to listen. Our Inclusivity and Yoga statement was made.
Movement for Modern Life took a look at it's recruitment procedure for teachers, which, to be honest, had always been a matter of simply listening to teachers' and student's recommendations. But this was not good enough. We cast our nets wider than our existing circle, we were inundated with responses and we were very, very fortunate to have been blessed with 9 stand-out amazing candidates who we are absolutely thrilled have come on board. Each bringing a diversity of style of practice, experience and teaching style. I see the immense strength of Movement for Modern Life as being that we can offer an amazing buffet of the world's best teachers, we can pick the style, the type of practice that suits us on each particular moment in the day, and it's wonderful to have diversity in every way.
In The Press
We were so lucky to have been blessed with some wonderful press coverage. We appeared in Vogue, Forbes, the Telegraph, the Mail Online, in Psychologies Magazine and many, many more. It truly was heart-warming to be finally receiving the recognition for our small team and our teachers. that our hard work has been recognised. But to be honest, I'm so, so proud of our team.
We were awarded Best Online Yoga Platform by the awards from Acquisitions International, and I was recognised by the Influential Business Women awards as Most Innovative Health & Wellbeing Business Woman.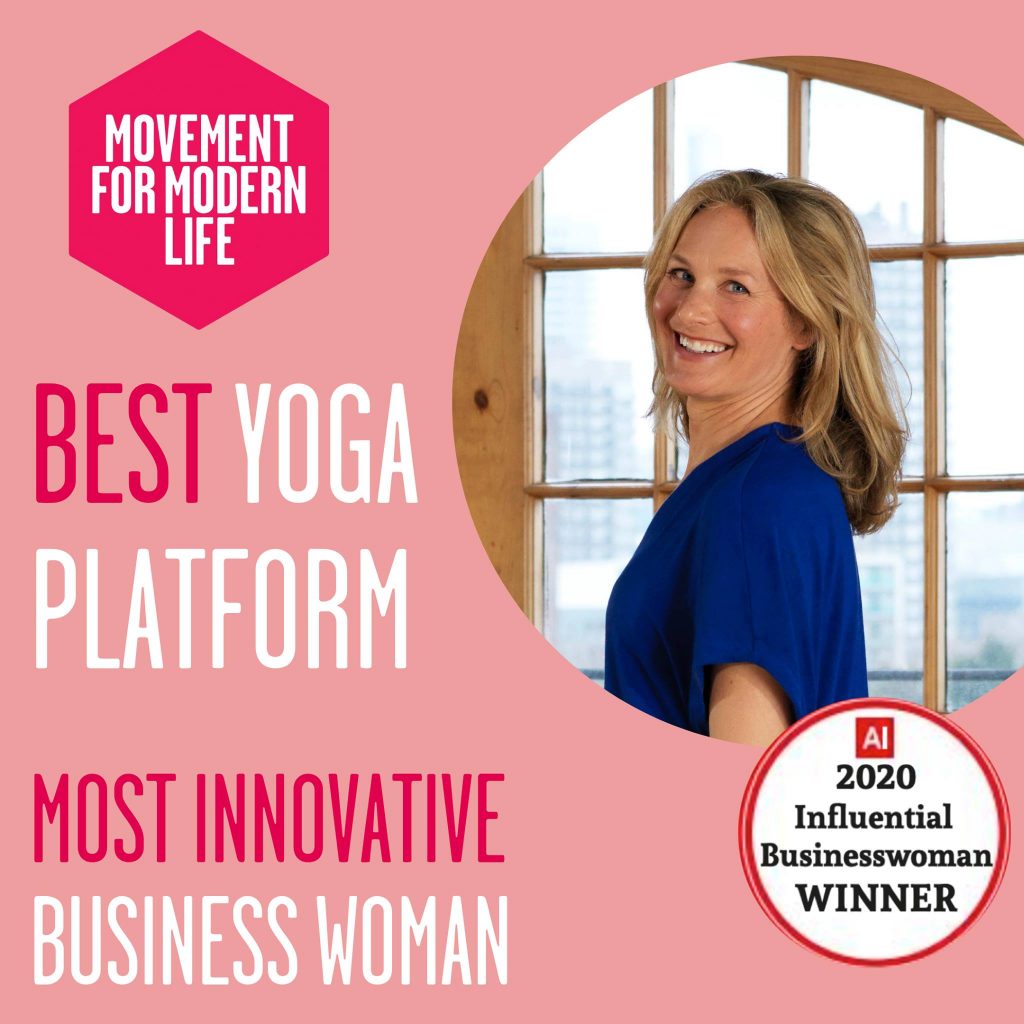 Our Charities
In 2020 we made donations to charities that were important to us, Danyadara and Trees for Life. These charities, speak to the real meaning of yoga to me: the interconnectedness of life.
MFML had our Annual Retreat planned at Suryalila, but of course, like so much in 2020, that had to be cancelled. But our flexibility as yogis came in handy, once again, and we launched our very first Live Online Retreat with wonderful Lucy McCarthy. Well, we didn't think that the camaraderie and the 'sangha' of a real retreat could ever be replicated online, but we were wrong. In fact, the group who took our Live Online Retreat reported that it truly was life-changing, and the community feel was vibrant. It was an extraordinary event. And from the sales, we were able to donate to Suryalila's sister project, Danyadara, a project really close to my heart, reversing the march of desertification in spain.
Live Online Yoga Retreat
in fact the retreat was so wonderful that we're repeating it in January, but with more yoga – with yoga in the evening sessions, and featuring guest teachers Yvonne and Rakhee on Saturday evening. There's still space, so do join us!
When the january retreat is over, we'll all be wanting to continue with that magic feeling that only yoga can bring, we'll be running a small steps challenge. For all of us who want to take the small steps on our journey to live a happier, healthier, more sustainable life, this will be a fabulous course to kick-start 2021 in the way that we mean to go on.
---
About Kat Farrants:
Movement for Modern Life's fabulous founder Kat Farrants lives her yoga. Kat's own yoga practice informs how she develops MFML. Kat wrote this post using inspiration from the small steps she takes to move into a happier, healthier and more sustainable life. Please do join her on this journey and explore with us your happiest, healthiest, most sustainable life.