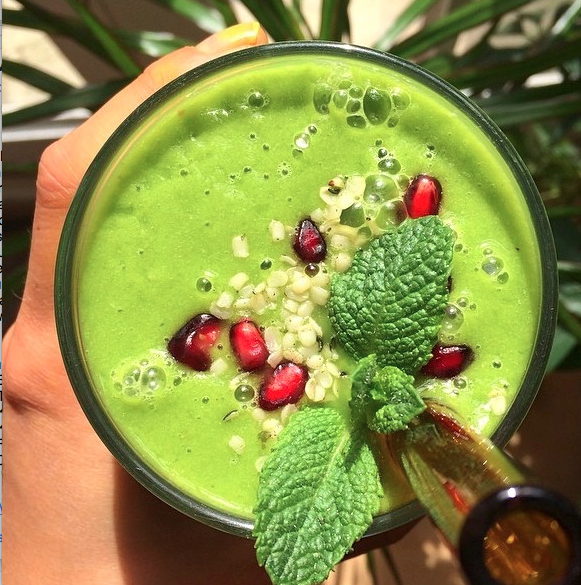 Do you know a raw foodie?
They're likely to be the friend married to their Vitamix. #greensmoothie is practically their middle name. Oh, and they'll also be the ones with the serene disposition and flawless, youthful skin, who emerged, blissed out, from a festive season spent sipping kombucha and popping bliss balls.
There's no denying it, the raw foodies are on to something.
Raw food has been around for a long time, but popped up into mainstream consciousness a few years ago – said to be behind Demi's Moore's Charlie's Angels body and Donna Karan's 20lb weight loss. And lean, it seems, is just the beginning.
Because while eating uncooked foods (or foods heated to a maximum of 46°C / 115°F) might not sound appealing long-term, it's in a therapeutic context where raw foods really shine. Just Google 'raw food healing' and you'll see what we mean. Diabetes, autoimmune diseases, food allergies, digestive issues, even cancer – there are raw food miracle stories for all of them and more.
Tanya Maher, creator of Better Raw, founder of Tanya's Café in Chelsea, and the expert raw chef behind our Cellular Renewal Online Retreat, knows about the healing power of raw first hand.
In 1998, Tanya was involved in a near fatal car accident in which she broke her back and damaged her internal organs. As if surgery, scarring and a stint in a full body brace wasn't enough to deal with, her super-sensitive insides rejected food, created chronic digestive issues and headaches, and took her to the brink of diabetes.
Over time and with the support of her parents, Tanya transitioned from a traditional salami-loving Russian diet to a plant-based and then raw food diet. And she healed for good. (Read more about Tanya's journey right here): http://betterraw.com/about
'It made so much sense to me' she says. 'As soon as you apply heat to food, vitamins and minerals diminish, proteins and antioxidants get halved, enzymes vital for digestion die entirely. In turn our bodies spend all their efforts on digesting the mineral depleted foods and leave us with hardly any energy for anything else.'
Her passion for 'living foods' as she prefers to call this lifestyle, has led her to coach hundreds of clients, lead retreats around the world and now bring her food to the world through Tanya's Café. Not to mention our Cellular Renewal Retreat – in which Tanya's raw recipes are geared towards helping your body reach an alkalised state where detoxification and regeneration can occur, and lay the foundations true health and healing.
The Cellular Renewal Online Retreat begins Monday 19th January, and combines delicious, easy-to-make raw food recipes with daily meditation, intention setting, yoga and wellness advice. Best of all, it's free for existing subscribers (and only £37 for newbies!). Find out more here.
And if you're salivating over the green smoothie above (it's one of Tanya's) and there's loads more to look forward to on the retreat.