Two years ago, I was at a really awkward stage with Movement for Modern Life. It was two years old, and I'd put everything into it for that time, all my time, all my money, my entire life – I'd worked 15 hour days with no other discernible life whatsoever.

I hadn't had time to see friends, let alone have a relationship. And there just seemed to be an endless list of things to do which was never-ending. MFML wasn't big enough to get support, and I wasn't experienced enough to know who we needed to support us.
It came to June 2015 and I was ready to implode. I was stressed, tired, anxious, upset and totally ready to give up on MFML. I was ready to say 'I tried, it didn't work'. Which made me very sad, so as well as being anxious and upset, I was depressed.
Lucy's Advice
When I saw Lucy McCarthy that week for some filming, she saw me, gave me a hug and suggested I took a yoga retreat. Of course, I laughed as the last thing I could do was take time off – my list of things to be done was far too massive to take off a week from work. But Lucy just firmly said that she thought it was the only option, and that her teacher, Max, was running a retreat.
So I booked a last-minute space on a 5 day-retreat with Max, just two weeks before I went.
The yoga was very slow. Very gentle. Which to my type A personality was strange. I hadn't been practicing much though in the last year as I'd been just too busy and stressed out to get on my mat (arh, the irony!) So the yoga with Max really suited my exhausted, stiff body and over-wraught mind.
But unlike most of the yoga I'd done in the past decades, the focus was on the breathing. This was revelationary! Of course, I'd always breathed deeply in my yoga – but this was a breathing, rather than a moving practice.
And to someone who was exhausted, sad and anxious, this was life changing. It was lovely in fact not to be vinyasa-ing, to be allowed to just breathe deeply, move slowly and let go. It made me realise how much pressure I'd found in the vinyasa practices I'd been to, with the focus on getting poses right. This was just pure self-care. And the Inner Axis work was hardly yoga – there were some yoga asana. But it was mostly breathing and some of the slow, gentle movements came from a martial arts base, and some of the techniques explored on retreat were from varied ancient practices.
The Results
Needless to say, I came back from retreat feeling refreshed from the inside out. And suddenly many of the things that had been really tough for me before the retreat, suddenly became easier. Some of the things I'd wished for, just seemed to slip into place.
It wasn't a cure all, but it seemed like there was some kind of very special magic infused in that retreat, in those practices. And to all of you who feel over-whelmed and you need a gentle hug from the inside, there are no better practices to explore than Max's.
Of course, after my experience, I had to ask Max whether he'd film for us, and we share such similar visions of just creating accessible, simple tools to help people thrive through the challenges that crop up in life. We now have three videos, after a wonderful day's shooting with my friend Max and his Inner Axis teachers who were his students on the day. Hopefully, we will bring you many more Inner Axis classes in the future.
Try it now for yourself! I hope you enjoy as much as I did.
---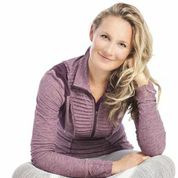 This post was written by our fabulous founder, Kat Farrants.