Can yoga really cause transformation? Take a peek into the journey of Kat Farrants. Here's how she discovered the deeply healing and rejuvenating power of yoga.

---
There's a lot of talk about how yoga is a transformative practice. What a load of nonsense, right? We're just moving, breathing, stretching and making shapes in our homes and on our mats. What's that got to do with transformation? The answer is that I don't know except what I have experienced and felt.

---
Once Upon A Time . . .
I used to be the kind of 'bendy' yogi who just moved, pretty impressively, through some advanced shapes. I was at the front of every class showing off – all skinny, bendy and blonde.
There seems to be a certain 'yoga type' who puts off so many of us who would benefit from the transformation.
A Shock To The System
My yoga transformed after a car crash which left me with limited mobility for months and has forever changed my body. I started to realise that I wasn't the shapes any more. Nor would I be causing gasps from onlookers with feats of bendiness, beauty and strength.
No, my days of circus gymnastics were over. It was just little naked me and my breath.
When my body was recovering, I underwent another massive blow to my spirit. Completely out of the blue, my husband and partner of 16 years left me. The house was sold and I was left jobless and homeless, staying on a friend's air mattress in her front room. (forever grateful, Marion! Thank you!)
Of course, the hurt, shock and pain of these things is unbelievable, it is no exaggeration to say that I really believed my life was over, even though people tried to convince me that this would just be a chapter in my story.
I Hardly Recognised Myself
Then the inevitable summer spent drinking, dancing, giggling and crying with friends and whirlwind romances. After the parties stopped and the summer was over, the dust started settling in my new life.
I tentatively stepped back on the mat. No shapes, hardly any breath, just tears. It took a long time to be able to take my first vinyasa. And when I did it really hurt.

All that partying with friends seemed to have healed my pain. But as I tried to breathe and move it became apparent that it had just caused the hurt to accumulate into a little ball in my insides.
And as I started to move, and breathe and stretch, the pain flooded out. The physical pain of my accident and the spiritual torture of my 'abandonment'. I went on a yoga retreat, where I moved through some of the pain and hurt, and my bruised ego for not being the bendy one any more. My body was rigid, my bones ached in everything I did.
I had transformed completely. Life had changed me. My body was nothing like it was, my spirit was unrecognisable. I hardly recognised myself even.
Transformation: Fast or Slow
So it occurred to me – life transforms us. Sometimes the change which happens is piecemeal. We do change every day, but decades can go by without us noticing the change, until we look at the stranger we married, or we wonder what we meant by doing all those things we regret. And we wonder, who was that stranger who did these things?
And sometimes the transformation is more sudden. Like my enforced transformation from Asana-goddess to wreck shivering in the kitchen, lonely and abandoned.

The Power of Choices
For me, it wasn't until I was absolutely broken in body and soul, that I started to wake up and realise that my yoga meant that I had choices.
Through my tears on my slippery mat, the yoga kicked in. Ha, I can move that back foot 45 degrees consciously? So it dawned on me that I had the power to move myself through my life.
I didn't have to be thrown about like flotsam in the sea, with no say over where the tide took me. I could steer the ship.
I couldn't focus anymore on the ego, on the shapes – my shapes were a disastrous tin-man effort of what they'd been. So I focused on the breath. And my breath came deeper. From my rib-cage, through the pain of my broken ribs. With every painful breath came more power. Came a strength in body and mind.
I could feel myself building up reserves of grit, of strength. I got strong through breathing. My mind started to notice the decisions I was making, the things I was doing to my body. I started to make very active, conscious choices. So on that fateful day when my boss told me that 'I was too creative' , I was powerful enough to say, yes, yes I am. And I quit my job that day.

Dharma Calling
I quit my job without anything in sight. Except I knew that I'd been living a lie, and that my breathing practice had made me strong and that I was strong enough to live a life of truth and integrity, whatever that looked like.
So that was the commitment I made to myself overlooking St Paul's in an office in the city. To live a life of truth and integrity, and to follow my dharma.
At the time I had no idea what that was, or what my dharma was – but I knew that I'd never find it by sitting in the office I hated!
The Difference Between Shapes And Yoga
Although I had practiced shapes for decades, it was since my divorce that I started to practice yoga, that is the daily conscious movement of movement and breath. Because when that is a daily practice, that practice seeps into every aspect of life. Yoga isn't done on the mat, it is done with each breath, awake or asleep.
Equanimity In The Sensation
Change is inevitable in life. Ups and downs are inevitable. Grief and heartbreak will happen. They have happened before and will happen again. But what isn't inevitable is your response to these things.
With an active yoga practice, you know that you can direct the inevitable change. You know that good and bad things all pass, and you need to soak up and appreciate each moment of each of these, the good and the bad.
A yogi knows that yoga can seem to be an exercise in pain management – yoga hurts sometimes! But the real yoga is finding an equanimity in the sensation, in dealing with it with a relaxed face and deep breath.

What better training can there be for dealing with the challenges that come to us in life? When we practice, in spite of a stronger urge to flop down and watch TV, we find the discipline. And the strength of a daily practice is so useful in dealing with the discipline to succeed in anything in life. (Yes, that success includes getting your kids to bed clean and fed!)
It all takes discipline and courage to get up and do it again, day after day.
As yogis, we are armed! We are grounded by our breath and our practice to not be swayed by the dramas of life. We have a knowledge that the change can be directed by us, that our emotions can be watched, they don't need to be participated in.
That each thought, each intention, each deep breath, is meaningful and will lead to a different path than would have happened otherwise.
That every moment we change, every moment we transform, and that yoga gives us the power to use this transformation to follow our heart's desires.
---
Committing to practice every single day – even just a little – is the best way to begin your transformative journey with yoga. We created this online challenge with senior teacher, Zephyr Wildman, to help anyone get started in transforming their outlook in life, mind and body. These short classes – just 20-30 minutes each day – with yoga postures, meditation, breathing and thoughtful insights are all you need to start making a difference to how you feel about your whole life.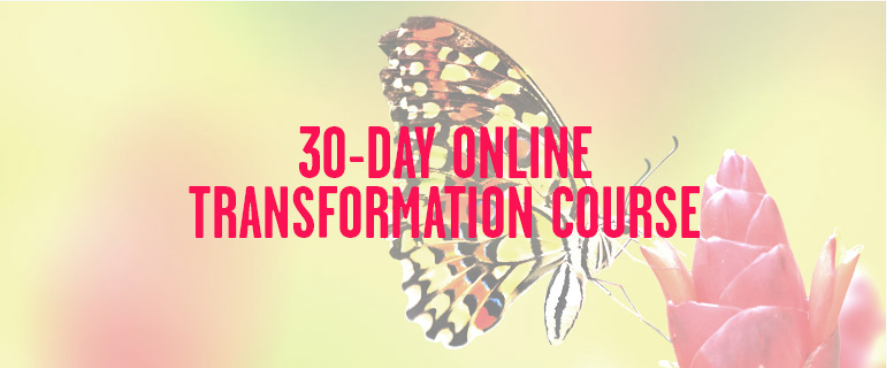 ---
This post was written by our inspirational founder, Kat Farrants.