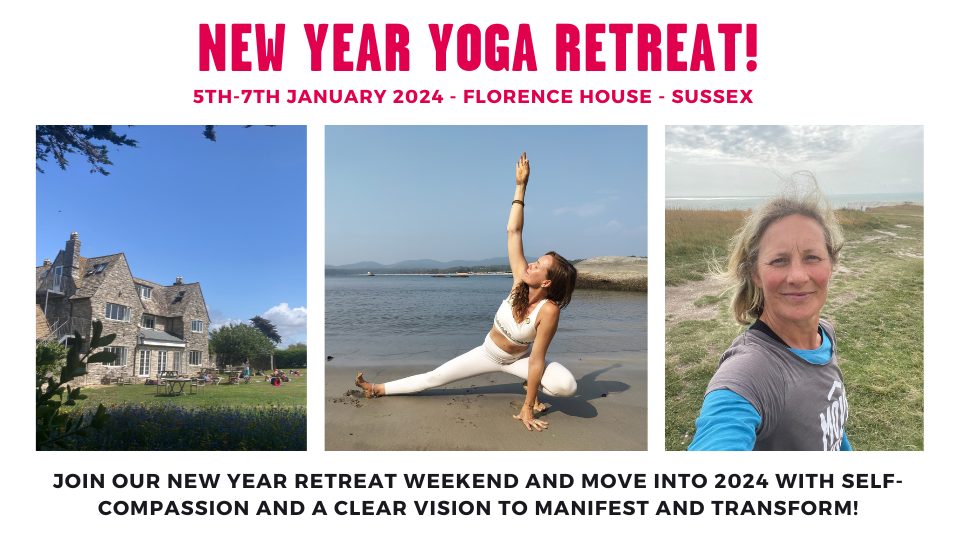 ---
LAST SPACE AVAILABLE… Join Lucy McCarthy and Kat Farrants for your New Year Yoga retreat (in real life)!
Let's Meet Up, Move and Breathe Together, as Community. There is nothing more potent than the gift of new friendship, connection, laughter, great food and the gift of giving yourself time to just 'be'.
---
---
New Year is a potent time to think about the transformation that we wish to happen for the year ahead. Coming together, in community, makes for even more potent transformation. This New Year yoga retreat weekend will be about being creative in manifesting a year full of heart-opened self-compassion.
Movement for Modern Life are so chuffed to be running their first in-person retreat since 2020. It's such an amazing opportunity to meet and share joy with other like-minded, open hearted individuals in the community! Add to that the delicious and nourishing food and the beautiful surroundings of the cliffs of the south coast… it really is idylic!!
The MFML team will be there to support this special retreat group on a journey of transformation we will take together. In this weekend we will put aside our daily responsibilities with a chance to journey deep inwards to set ourselves up for the coming year. Receive rest, nourishment and support from a variety of gentle yoga practices (including restorative yoga, yoga nidra, hatha yoga, meditation and breathwork). Enjoy some time off to walk the beautiful coast with new friends or to just rest. Therapies will be available to completely relax and set ourselves up for the year ahead.
I just wanted to say how very much I enjoyed the retreat. It was a tonic for the soul (and the body)

MFML Retreat attendee 2020
---
---
When we think of manifesting the transformation that we are looking for in the year ahead, it all starts with self-compassion. The transformation springing from a well-spring of a nourished and supported body and mind will be imbued with self-compassion.
Lucy you are so wise and radiant. My intention for this retreat was to see more clearly, and I now feel completely peaceful and brave to go out into the world and face the next step. Thank you xxx

MFML Retreat attendee 2020
---
---
About the Practices on the Retreat:
This retreat is suitable for all ages and all abilities, every body is welcomed. The practices will be those which encourage a sense of wholeness, self-compassion, a heart-felt softening. Yoga will be a gentle all-levels hatha yoga, with plenty of restorative yoga, yoga nidra, meditation and breathwork.
The practice of coming together in a sangha, or community, is a coming together in love and mutual support. This support is especially potent after this time of isolation, and life lived online. There is immense power in learning from each other within group discussion when there is an atmosphere of inclusivity, non-judgment, and support.
This retreat prioritises community. The power of authentic connection amongst like-minded, open-hearted individuals all supporting each other on the spiritual journey to transformation is immense. In our Sangha, supported by Lucy, Kat and all the MFML team, we shall feel motivated by each other, but relaxed.
---
About Lucy McCarthy
---
It was so special , I could feel the love and compassion throughout the whole weekend, I always go through life saying I am fine – no matter what is thrown at me, it took me till today to fully allow myself to let go and be myself. Lucy is very special and MFML is a godsend and helps me in my life so much.

MFML Retreat attendee 2020
---
About Kat Farrants
---
Pricing and What's Included?
The price starts from just £487 per person and includes:
Home-cooked, fresh (from their kitchen garden where possible), nutritious, delicious and plentiful vegetarian meals. Meals from Friday night dinner through to Sunday lunch – these meals really are a highlight!
Tea, Coffee, fruit and biscuits and drinking water throughout the day
5 x 90 Minute Yoga Classes
2 Morning meditation sessions
Time for getting to know each other, bracing walks by the cliffs and cosy evening discussion groups
2 night's comfortable accommodation, ranging from more the cost-effective shared triple room to a luxury single en-suite.
Florence House's beautiful grounds to explore (and the magnificent Seaford cliffs 5 minutes walk away).
A welcoming, friendly and inclusive community to share with and a new family for the weekend!
A chance to meet the Movement for Modern Life team in-person!
The opportunity to have a wonderful Osteo-Thai Massage
Additional costs include your travel to and from Florence House and Massages.
---
Accomodation options:
ONE SPACE AVAILABLE – Triple shared room (three twin beds) – £487pp (MFML subscribers) / £587.00 pp (non-subs)
WAITLIST – Twin shared room – £517pp (MFML subscribers) / £617 pp (non-subs)
WAITLIST – Twin shared ensuite room – £537pp (MFML subscribers) / £637 pp (non-subs)
WAITLIST – Single room: (twin bed) – £557pp (MFML subscribers) / £657 pp (non-subs)
WAITLIST – Single room in cottage – £577pp (MFML subscribers) / £677 pp (non-subs)
​A £200 deposit is required to confirm your space. The balance will be due two months before the start of the retreat (5th November 2023).
---
Registration
To reserve your place please complete this form and pay the £200 deposit.
Any questions or queries – email Joanna at support@movementformodernlife.com
---
---
About Florence House
Florence House sits at the top of Seaford head on the edge of the South Downs. The house is surrounded by lush landscapes and sea breezes. It is truly a haven tucked away waiting to be found.
---
Florence House, Southdown Road, Seaford, East Sussex, BN25 JS
Tel: 01323 873700- Fax; 01323-873705
e-mail: info@florencehouse.co.uk
www.florencehouse.co.uk
---
Getting There
By car:
Travelling east on A27 from Worthing/Brighton, follow signs to Newhaven/Lewes. At roundabout after the rail crossing you have a choice between Lewes and Newhaven; take A26 to Newhaven / Seaford.
Alternatively follow the coast road A259 from Brighton to Newhaven. In Newhaven, follow sign to the left for Seaford A259.
Carry on the A259 until you reach Seaford and a mini roundabout with the train station on your right hand side. Stay on the A259 going out of town in the direction of Eastbourne. Look out for a church almost immediately on your right hand side and take the third turning on your right after the church, this is Southdown Road. Helpful markers to look out for at this junction are: a traffic light,red postbox and red phone box. Stay on Southdown Road and go straight down the hill towards Seaford Head and the golf-course, crossing over a couple of streets. At the bottom of the hill at Southdown Corner you will see a large grey house on the hill in front of you. This is Florence House. Take the first gate entrance and follow it to the front door.
Local taxi hire firms:
Terry's Taxis 01323 899444 (mob: 07745307227)
Martello Taxis: 01323 492929
Day-Night Taxis: 01323 896666
Beacon Taxis: 01323 898888
By train:
Trains run from Victoria station every 30 minutes. Change at Lewes for Seaford. The journey takes approximately 1 hour 20 minutes. There will be taxis at the station. Florence House is up by Seaford Head golf course.
The telephone number for National Rail Enquiries is: 08457 48 49 50.
​More information here (Florence House Website)
---
What to Bring
Comfortable, warm clothing – it will be winter so we will need layers!
Your own yoga mat and any other yoga props such as bolsters, blankets, straps or blocks (Florence House does not provide these).
Toiletries & medications if needed
Ear plugs (can be useful if you're sharing rooms!)
Comfortable walking shoes
Notebook and pens/pencils
An open heart ready to connect and share the weekend!
---
---
---
---
Terms & Conditions
BOOKINGS:
A non-refundable deposit of £200 is required with this booking form to secure your place.* The balance needs to be paid 60 days before start date of the retreat. If booking within six weeks of start date payment in full will be required upon booking.
PAYMENTS:
Payment can be made online via invoice once your space is confirmed.
​ROOMS AVAILABLE ON FIRST COME BASIS. PLEASE INDICATE PREFERENCE FOR ROOM, AND WE WILL DO OUR BEST TO MEET YOUR REQUEST.
CANCELLATIONS:
Please let us know as soon as possible if something comes up and you cannot attend the retreat. We always endeavour to treat cancellations fairly and sympathetically, but as spaces are limited the following applies: We'll refund you the full amount you've paid minus the deposit (£200) if you cancel 30 days BEFORE the start of the retreat. If you cancel WITHIN 30 days of the retreat, no refund will be issued unless we find a replacement for the vacancy created by your cancellation. If we do find a replacement, we will refunded everything you've paid minus the deposit to you within 15 days.
If the retreat must be cancelled due to government policies regarding COVID19 or any other force majeure, we will do our best to reschedule the retreat. You will have the option to 1) ask your travel insurance to reimburse your deposit or 2) apply your deposit towards the new dates for the retreat or a future retreat.
​
LIABILITY:
We do NOT accept any liability for:
• Cancellations, delays or changes caused by war, threat of war, terrorist actions or threats, closure of airports, civil strife, industrial action, natural disaster, technical problems to transport, staff cancellations, weather or other events beyond our control.
• Participants' medical or psychiatric conditions which may develop during or subsequent to the holiday.
• Loss of, or damage to, personal property of participants.
If you have had any major physical or emotional illness within the past 5 years, or are under medical or psychiatric supervision, you must notify us of the details at the time of booking and, where appropriate, enclose a doctor's certificate of fitness to travel. Non-disclosure of relevant information can invalidate your insurance and cancel our contractual obligation to you. In order to participate in overseas holidays, clients must have travel insurance.