Hatha Yoga › Sally Parkes
Hatha Yoga is the name given to all physical yoga postures and breathing techniques to prepare the body for meditation. However, hatha yoga is commonly known for yoga with an emphasis on steadiness, so expect more static poses and longer yoga pose holds. The slower pace of Hatha classes makes it suitable for beginners, however it also provides a focus for more advanced practitioners and the possibility to explore the merging of breath, mind and body. Hatha Yoga provides the basis for many other forms of yoga including ashtanga yoga, vinyasa yoga, power yoga, yin yoga and restorative yoga. You may wish to follow your practice with yoga nidra, meditation or relaxation.
35:09

Hatha Yoga to Energise

Feel energised and reinvigorated with this simple but well-rounded yoga class of mostly standing postures. After a gentle warm-up, expect a simple series of grounding, standing postures to bring strength and energy to the whole body. The class is specifically sequenced to re-energise women, but everyone can benefit. The movements work with the spirals of the female form so the body is encouraged to feel at ease. This sequence of flowing and predominantly standing Hatha Yoga postures is linked with thoughtful transitions and breath work, to help release such tensions and manifest our full awareness of our physical and energetic being.

29:04

Gentle Yoga to Unwind

A gentle yoga class of floor based movements for when we're low on energy and needing a gentle boost. Keeping low to the ground, and with few poses which use wrists, this yoga class uses gravity to unwind the spine, open the chest and shoulder area, helping our heart centred energy to flow more freely. A perfect class if you're suffering from PMT or you're on your period. Many of our day to day movement patterns can create a rigidness to the spine and rib cage that negatively affects our respiration and levels of tension throughout the chest, shoulder and neck area. But by moving in a flowing and 'softer' way, working with gravity as opposed to against it, we can begin to release these areas of tightness to become more free in our body. This sequence of predominantly floor based Hatha Yoga asana will work to unravel the upper body, especially the chest area, to create increased synchronicity between the upper skeletal system, breath and ultimately the heart space. You may need a block and bolster.

27:47

Yoga For Strong & Stable Hips

A simple hatha yoga class to create stability and flexibility in the hips. The hips are weight bearing joints that are made up of the pelvis, sacrum, femurs and coccyx as well as the surrounding muscles and connective tissue. In order for the hips to be functional and healthy we need to work all these areas with a combination of strength and flexibility. This class combines Hatha based yoga movements with strengthening workout moves to strengthen the hip joints whilst the yoga based hip openers work to unwind the hips, allowing you to move more freely whilst feeling strong in your pelvic area. You will need a block.
23:50

Yoga to Strengthen the Spine

A yoga class to release and strengthen the back, with a focus on the lower back. Lower back pain and discomfort is common in today's society and the reasons for this vary, but can include a lack of regular stretching, too much of the same kind of strength work or too much flexibility (Hypermobility). Whatever the reason, Pilates inspired movements can assist with regaining balance of this sometimes vulnerable are. This sequence is packed full of small stabilising movements which give a sense of strength throughout the entire core area and is also punctuated with gentle stretches to unwind and release the entire spine.

15:50

Post-Natal Gentle Abs

This gentle abs class will gently help your abs to recover, great for post-natal, but wait for at least 8 weeks post-birth before doing this class and ask your health advisor before starting this class. Also great for any of us who are looking to gently get their core strength back following illness or surgery. You will need a block.

37:26

Pregnancy yoga for lower back and pelvis

A flowing sequence for pregnancy. Suitable for all trimesters, although as it is a flow sequence, don't push it too much! Great for sore lower backs and to give your hips and pelvic region relief. Includes lovely long pregnancy relaxation. You will need a block.
---
Join the Wellbeing Revolution
This is your yoga, your way.
Build a happier, healthier, more sustainable life.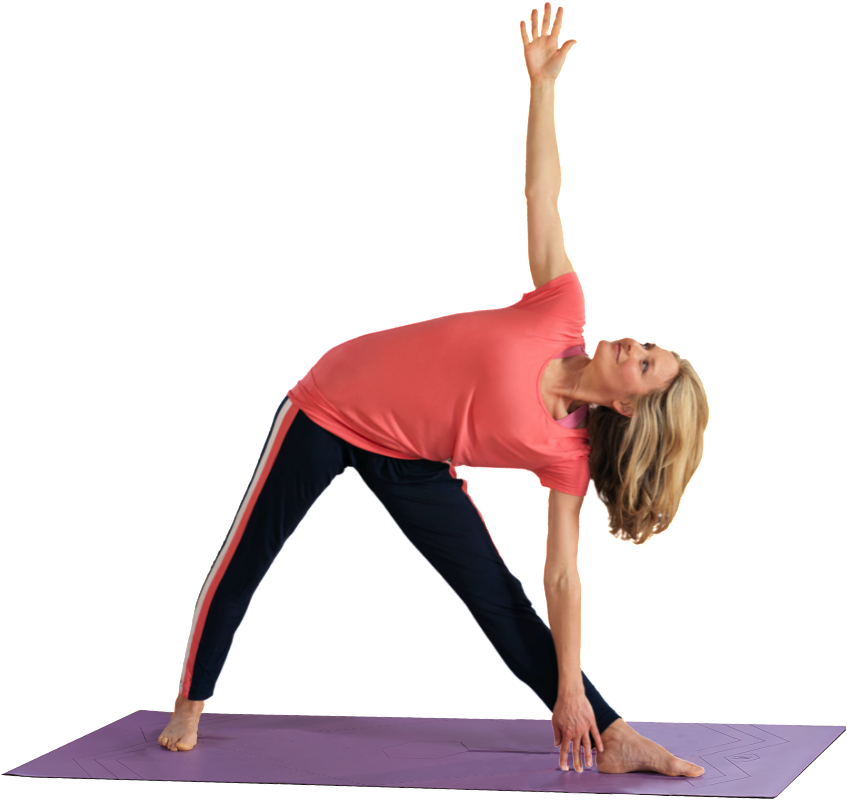 Then subscribe for £15.99 per month. Cancel anytime.